Here are some stills from The Phantom Menace! Click the thumbnail for a larger image.
Anakin Skywalker

New! Obi-Wan and Anakin!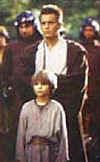 Anakin's mother, Shmi Skywalker

Anakin and Shmi at dinner

R2 in the streets of Mos Espa

New! Tusken Raider!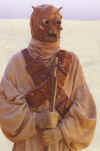 Ric Olie
Senator Palpatine

Naboo Hanger

Naboo Pilot in N-1 starfighter

Captain Panaka

Captain Panaka and R2

George & Company

The Creative Genius

These pictures come from the official Star Wars website and theforce.net.