GAME COMMENTS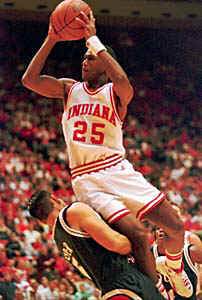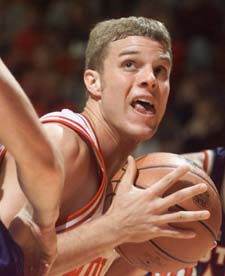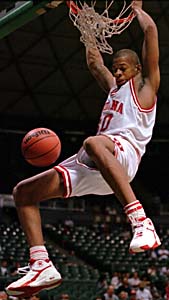 11/2/98: IU 109 Melbourne 67
Well, the big man question has been settled.....at least until the next game.
IU got a tremndous all around team effort on Sunday......but most surprising of all was the play of the frontcourt.
This was epitomized by freshman center Kirk Haston. Haston finished with 16 points and 7 rebounds against a quick, but small, Melbourne interior. William Gladness and Lynn Washington added 10 points a piece. More impressive than points scored, however, was the aggressiveness and tenacity of the froncourt. they seemed to have the killer instinct that was blatantly lacking last year.
Haston has tremendous offensive skills. It is no wonder that he lead his high school team to a 37-0 season and the Tennessee state title his senior year. He knows how to score, he runs the floor really well for a man his size, and he understands the motion offense. Haston's upside over four years is really scary.
Bob Knight must love coaching Lynn Washington. He is strong, aggressive, attentive, and seems to really concentrate on what he is doing. He is a vocal leader who is not afraid to voice his opinions to the veterans. But more that anything else, he really seems to love playing the motion offense. Knight has a gem in Washington.
Richardson looked quite sluggish. He needs to concentrate less on scoring and more on rebounding, screening and defense. Washington and Haston have figured this out. Richardson has not.
Gladness was his usual, consistent self.
The backcourt was mystifying. Fife, who earned a start, used his defensive assertiveness to start many a fast break. Recker scored at will. Jiminez really locked down the perimeter. Guyton was steady. Turner electrifyed the crowd with dunks and slashes.
Granted, this was only an exhibition game, but what a great start to the season.
10/18/98: Thoughts on Midnight Madness
Everyone knows the Hoosiers will be very deep at guard this year. Recker, Guyton, Fife, Lewis, Jiminez and Hornsby give us a backcourt as deep as any in the country. With the addition of Randle El and Williams after football season concludes, the backcourt will get even better.
With this in mind, I attended MM (midnight madness) with a focus on the frontcourt. The good news about IU's frontcourt is that we return a significant contributor in William Gladness. Gladness had an excellent senior season, and often overplayed the much more talented Andrae Patterson, especially during the Big Ten season. Gladness gives IU quickness in the frontcourt it has not had in years. Gladness confirmed this in MM, showing an improvement on the solid skills he showed last year. Coach Knight can count on Gladness' contribution each and every game.
So the big question mark for the frontcourt will be the Haston/Richardson/Washington trio. Out of these three, we can only afford one disappointing season. We need at least one to step up and become a solid force, and at least one more to become a good role player. After MM, I have no doubt that Haston will become a starter by the end of the season, with Richardson pushing him for significant playing time. Washington, who displayed good quickness and rebounding ability, will get some quality minutes this year, and should really blossom next year.
Based on what I observed, I think the starting lineup for the Seton Hall game on Nov 7th will be:
G Fife
G Guyton
F Recker
F Gladness
C Haston
GO HOOSIERS!